La libération autoritaire des terres de l'Ouest. Pratiques étatiques et légitimations du cadastrage dans l'Éthiopie contemporaine
For the last fifteen years, the Ethiopian government has been implementing the registration of peasants' land rights in rural areas. It is supported in its task by development projects funded by foreign agencies that, through their daily activities, their conception of the cadastre and the ideological tools they spread, take part in the legitimisation of state practices. Nevertheless, land registration serves a vast "land liberation" implemented by the Ethiopian government. This liberation of land boils down to the eviction and forced displacement of ethnically selected populations, in order to transfer their land to private investors. By doing so, the state combines the pursuit of economic interest with the reinforcement of a strong political control over the peasantry. This article seeks to advance an understanding of the many legitimisation processes surrounding these practices.
Le gouvernement éthiopien procède depuis une quinzaine d'années à l'enregistrement et à la formalisation des droits fonciers des paysans en zone rurale. Il est aidé dans cette entreprise par des projets de développement financés par des bailleurs extérieurs qui, par leurs activités quotidiennes, leur conception du cadastre et les outils idéologiques qu'ils véhiculent, participent à la légitimation de l'action gouvernementale. Cet enregistrement foncier est pourtant mis au service de la ''libération'' de terres par le gouvernement éthiopien, laquelle prend la forme de déplacements contraints de populations sélectionnées sur critères ethniques, afin que leurs terres soient transférées à des investisseurs privés. Par cette opération, l'État éthiopien redessine l'espace rural dans les périphéries, assurant à la fois la poursuite d'intérêts économiques et le maintien d'un contrôle politique fort. Cet article se penche sur les différents processus de légitimation à l'oeuvre autour de ces pratiques.
Fichier principal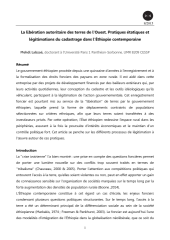 JSSJ8-5-fr.pdf (177.96 Ko)
Télécharger le fichier
Origin : Files produced by the author(s)