Gastrossônica: Desenvolvimento do suporte ubimus para atividades musicais gastronômicas
We present the tools developed and discuss the results of the first study in grastrosonics. Grastrosonics is an emergent field of research within the ubimus movement. It deals with the use of food and gustatory, smell and tactile stimuli furnished by the gastronomic universe to enhance the affordances of musical creation. Our work complements the extant proposals in human-food interaction, targeting playful and creative activities to enhance well-being. Twelve subjects participated in this study. The results indicate the possibility of using gastronomic resources to share information in group-oriented musical activities.
Apresentamos as ferramentas desenvolvidas e discutimos os resultados do primeiro estudo focado em gastrossônica. A gastrossônica é um campo de pesquisa emergente dentro das vertentes ubimus. Ela abrange a utilização de alimentos e de estímulos gustativos, olfativos e táteis vinculados ao universo gastronômico para ampliar as possibilidades criativas no fazer musical. A proposta complementa os trabalhos já existentes no campo da interação humano-comida (human-food interaction) explorando os aspectos lúdicos e criativos com ênfase no fomento ao bem-estar. Participaram no estudo 12 sujeitos distribuídos em duplas. Os resultados colocam em destaque a possibilidade de utilizar recursos gastronômicos como estratégia de compartilhamento de informações em atividades musicais grupais.
Fichier principal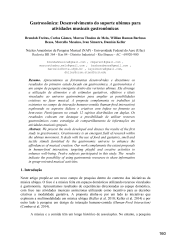 160-171 Gastrossônica PT.pdf (548.77 Ko)
Télécharger le fichier
Origin : Explicit agreement for this submission