The effect of switching barriers on customer commitment: an application to mobile phone services
The goal of this research work is to investigate the relationship between switching barriers and customers' commitment. It is considered that different types of switching barriers have an opposite influence on the commitment of clients: it can be either a destructive effect or a beneficial effect on the long-term relationship between partners. We have distinguished between two types of switching barrier, negative and positive, depending on the customers' motivation to maintain the relationship. The results indicate that negative switching barriers weaken the affective commitment while positive switching barriers enhance it. Therefore, contrary to current practice in the mobile phone services sector, application of positive switching barriers is an effective strategy for building a long term customer relationship.
L'objectif de cette communication est d'examiner les relations entre les barrières au changement et l'engagement du client. La problématique est fondée sur l'idée que les différents types de barrières au changement ont une influence opposée sur l'engagement du client : elles peuvent avoir aussi bien un effet destructeur qu'un effet bénéfique sur la relation à long terme entre partenaires. Nous avons séparé les différents types de barrières en deux groupes : négatifs et positifs, en fonction de la motivation du client à maintenir ou non la relation. Les résultats de l'étude empirique montrent que les barrières au changement positives renforcent l'engagement affectif ce qui permet d'assurer une relation basée sur les attitudes positives. Contrairement à la pratique actuelle dans le secteur des services de la téléphonie mobile, l'application des barrières au changement positives s'avère être une stratégie plus efficace pour obtenir un engagement du client à long terme.
Fichier principal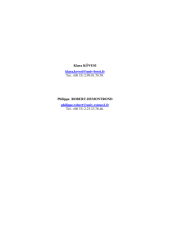 Article_anglais_switching_barr_env_dimin.pdf (221.49 Ko)
Télécharger le fichier
Origin : Files produced by the author(s)