Caractérisation des interfaces colle/substrat des assemblages collés : application aux structures hydroliennes
Due to the complexity of their installation and their maintenance on-site, the operating life of the Renewable Marine Energie operating systems must be up to 15 years. The sustainability of their structure remains, therefore, a major challenge. The manufacturing of these structures is based on combination of materials often assembled by structural bonding. The long-term behaviour (fatigue, durability in marine environments) of this type of hybrid structures remains little known. This is why the purpose of the ANR France Energies Marines INDUSCOL project, in which this work is carried out, concerns the development of rules for the design and the maintenance of EMR systems. The key 23 ème Congrès Français de Mécanique Lille, 28 Août au 1 er Septembre 2017 issues are the prediction of the durability of EMR structures and the development of instruments dedicates to the monitoring of tidal turbines. Working on the durability in marine environments of two-component epoxy adhesives has raised problems related to the mechanical phenomena taking place at the interfaces, i.e. between the adhesive joint and the various substrates [1] [2]. These phenomena leading either to a cohesive failure (within the adhesive joint) or to an adhesive failure (at the interface between the adhesive joint and the substrates) must be studied in detail. Indeed, the alteration of the adhesive properties can lead to an adhesive failure which significantly reduces the mechanical strength of the bonded assembly. First, we propose to characterize the mechanical behaviour of the adhesive by testing on bulk specimens. The parameters of a viscoelastic-viscoplastic behaviour law will be validated by using modified ARCAN specimens on aluminium / adhesive / aluminium assemblies. The influence of the water exposure aging on the material parameters will be studied by these bulk tests in order to describe the behaviour of ageing bonded assemblies. In a second step, the monitoring of these assemblies will be proposed in order to characterize the mechanical properties of the interfaces. An application of this type of instrumentation will be put in place to monitor the assemblies on in-service water turbines structures.
Du fait de la complexité de leur mise en place et de leur maintenance sur site, la durée de vie des systèmes d'exploitation des Energies Marines Renouvelables (EMR), doit pouvoir atteindre 15 ans. La durabilité de leur structure demeure donc, un enjeu majeur. La fabrication de ces structures repose sur des combinaisons de matériaux souvent assemblées par collage structural. La tenue à long terme (fatigue, résistance à l'environnement marin) de ce type de structures hybrides reste encore mal connue. C'est pourquoi l'objectif du projet ANR France Energies Marines INDUSCOL, dans lequel s'inscrit ce travail, porte sur le développement de règles de conception et de maintenance des systèmes EMR. Les problématiques clés sont : d'une part, la prédiction de la durabilité des structures EMR et d'autre part, l'élaboration d'outils d'instrumentation d'éléments structuraux hydroliens. Des travaux menés sur le vieillissement en milieu marin des colles époxy bi-composant ont soulevé des problématiques liées aux phénomènes mécaniques ayant lieu au niveau des interfaces, i.e. entre le joint de colle et les différents substrats [1] [2]. Ces phénomènes menant soit à une rupture cohésive (au sein du joint de colle), soit une à rupture adhésive (à l'interface entre le joint de colle et le substrat) doivent être étudiés de manière approfondie. En effet, l'altération des propriétés d'adhésion peuvent entrainer une rupture adhésive qui réduit alors significativement la tenue mécanique de l'assemblage. Dans un premier temps, nous proposons de caractériser le comportement mécanique de la colle utilisée par des essais sur éprouvettes massiques (bulk). Les paramètres d'une loi de comportement viscoélastique-viscoplastique seront alors validés par des essais de type ARCAN modifié sur des assemblages aluminium/colle/aluminium. L'influence d'une exposition à un vieillissement hydrique sur les paramètres matériaux sera ensuite étudiée par ces essais massiques afin de décrire le comportement d'assemblages collés vieillis. Dans un second temps, une instrumentation de ces assemblages sera proposée afin de caractériser les propriétés mécaniques de leurs interfaces. L'application de ce type d'instrumentation sera ensuite mise en place afin d'assurer un « monitoring » en service de structures d'hydroliennes.
Fichier principal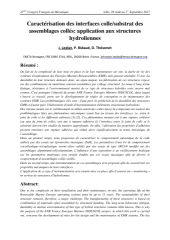 CFM2017_ExtendedAbstract_Induscol_Francais_vf_leplat.pdf (826.85 Ko)
Télécharger le fichier
Origin : Files produced by the author(s)